OUR TEAM
3101 SW Huntoon
Meet our team of noted artisans.
David Porterfield, Owner
David has spent his entire professional life doing what he loves at Porterfield's. A Topekan by birth and choice, he attended Topeka public schools and graduated from Washburn University with a BA in English. He has been an active citizen, including stints as president of the Mulvane Art Museum and the historic Jayhawk Theatre and served on the boards for the Mt. Hope Cemetery and the Topeka Friends of the Zoo among his countless civic activities. For many years, he served as a charter member of the Kansas Public Radio Advisory Board and more recently,  he was recognized for his over 30 years of service to CASA, an organization which advocates for children.  He is also a long-time active member of Grace Episcopal Cathedral.
Professionally, he has served as president of the Kansas State Florists Association and has twice been on the national Board of Directors of the American Institute of Floral Designers. He was a selected designer for President Reagan's second inaugural, the bicentennial celebration for the Statue of Liberty and the dedication of the horticulture wing of the Smithsonian Institution. He has been invited to lecture at the New York Botanical Gardens, the San Francisco Garden Club, the American Institute of Floral Designers National Symposium and many other venues.   Porterfield's has been selected as Topeka's best for many years by readers of our local newspaper, but he is most proud of the shop's recognition in 2014 as the best florist in the United States by the Wholesale Florists and Florists Suppliers of America and Florists' Review Magazine.
---
Patrick Wages, Design Director
Patrick joined Porterfield's in 1995. Patrick's responsibilities are many, as regular customers are well aware. He buys virtually all of the fresh product used daily at Porterfield's. This is in itself a huge task, as literally thousands of blooms are used weekly, and top quality and freshness are never negotiable. In addition, Patrick insures that every design that leaves the store is impeccably done with beautiful product. He also consults regularly with brides and event planners to produce some of  Topeka's  most memorable occasions. Patrick  joined Porterfield's (as a data-entry person from a temp agency!) in March, 1995. One day shortly thereafter, he walked up to a design table in the workroom and announced that he was capable of designing. After showing the staff a sampling of his skills, he was quickly moved from the office to the design room as a full-time employee. We have yet to meet anyone with as much natural ability in this field as Patrick.
---
Linda Kennison, Designer
Linda comes to us as an experienced professional in the floral business. She and her mother, Ilo, owned and operated Overbrook Floral for 35 years in the suburban town south of Topeka. The shop was closed in October 2017 when it came time for Mom to retire. Linda decided to stay in the business and we are so happy that she came to us when she did. Her skills and experience have been an invaluable addition to our store. Whether creating a show-stopping display on the sales floor or designing a gorgeous floral remembrance, Linda's work is perfection. Add these skills to a delightful "Kansas" personality and you have the perfect fit for our newest Porterfield's employee.
---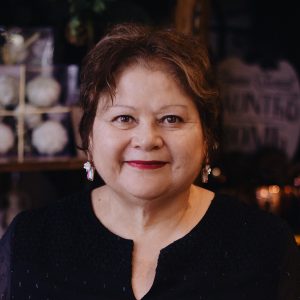 Zina Ball, Designer
When first hired, Zina reminded David that he had been a judge in a design competition in which she participated many years ago and that he had been quite complimentary of her work.  And he still is!!
Zina is a skilled artisan in every aspect of floral design and we are thrilled to have her on our team.
.
---
Karolyn Schroeder, Designer
Karolyn joined the Porterfield's Flowers team in February 2015 after teaching ceramics as an Arts Instructor at Hugoton Recreation for over 25 years. She brings her artistic talents to our flower shop and pays close attention to details.
She and her family moved to the Topeka area from Hugoton in 2013. Her husband, daughter and two grandchildren keep life full of energy and fun. When she is not designing at the shop or hanging out with family, you'll find her reading her favorite books and working outside in her yard. We are very thankful for her wide range of talents.
---
In addition our designers listed above, Porterfield's is truly fortunate to have a cadre of involved people who help us in other ways. In the office Christi Stewart keeps the books in order, while the front room and telephone sales team includes Cindy Baird, Connie Spencer, and Christi Stewart. Jeff Grace coordinates our busy delivery schedule with a cheerful disposition that lifts everyone's spirits.  You may find him on your doorstep soon! We are grateful for each of our dedicated staff members.